With over 20 years of experience in the field of high-class curtains and blinds production in Vietnam, Blinds.vn is committed to bringing absolute satisfaction to the quality of curtains and blinds. We look for opportunities to export curtains and blinds to other countries. Contact us now for latest quotations for export curtains and blinds.
Curtains and blinds are manufactured at Blinds.vn's high-tech curtain factory according to strict standards for 5-star hotels, apartments, townhouses and resorts across the country.
Our staff has many years of experience with the most difficult curtain models today such as: neoclassical queen curtains combined with shaping in drawers, automatic ceiling curtain systems, stormproof roller blinds, wooden blinds, aluminum curtain, rainbow curtain…

Applying comprehensive management software to all stages (sales > production > construction) saves 50% of time and 30% of costs for customers compared to other businesses.

Electronic warranty (by phone number or email order) genuine Blinds 3 years for fabric products, imported curtain motor and 2 years for other curtain fabrics.

10,000+ different curtains and blinds fabric samples for customers to easily choose (fabric catalogues).
Hotline/ Viber/ Zalo: + 8483 675 8888( Mr Tuan )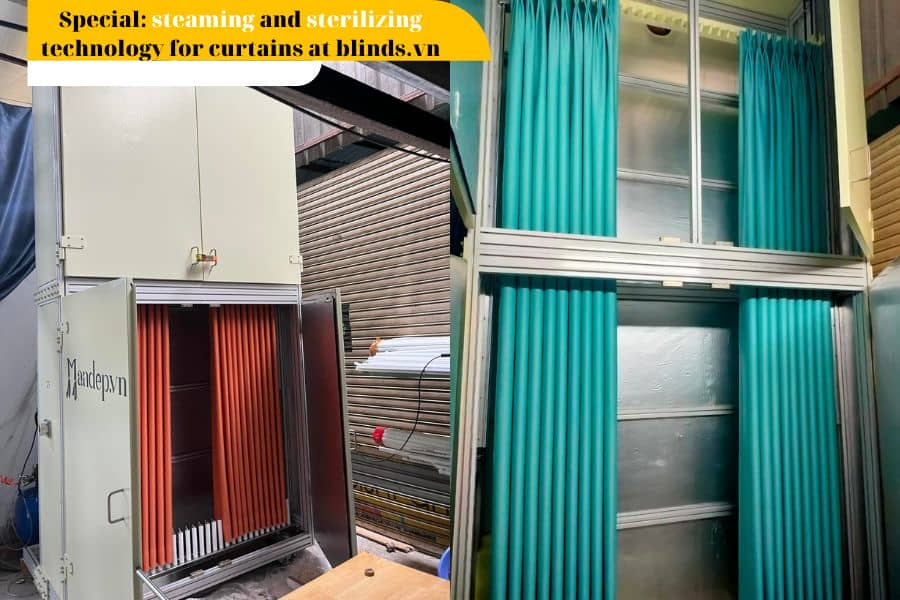 Curtains & blinds production process
Curtains and blinds production process at ECO Blinds.vn factory: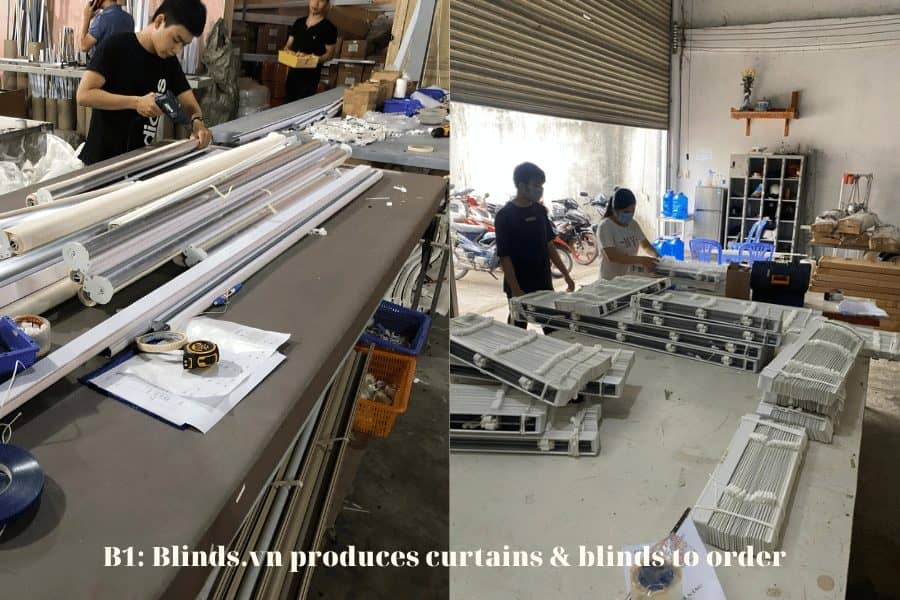 Step 1: Blinds.vn produces according to the measurements in the quote for curtains & blinds.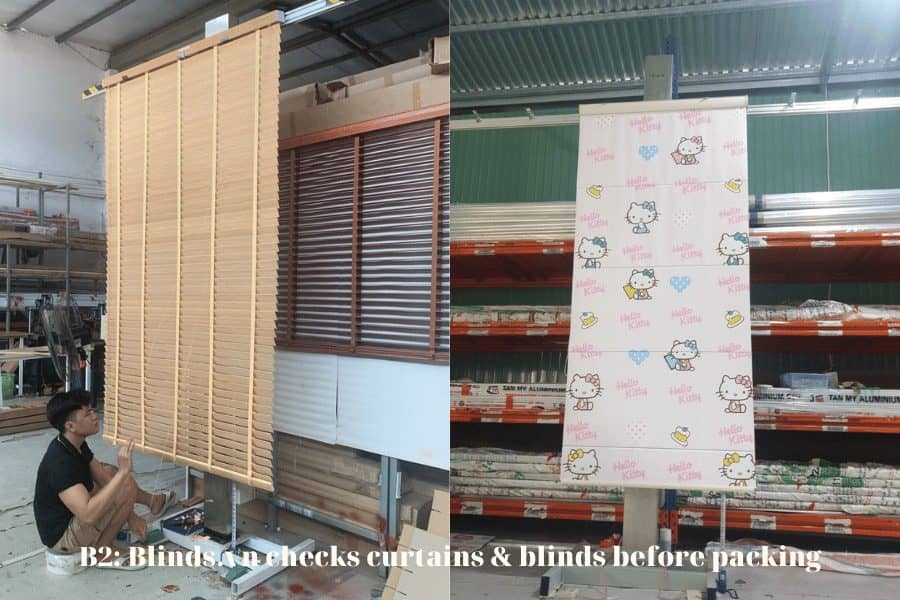 Step 2: Blinds.vn check the correct curtain size according to the curtains and blinds quote.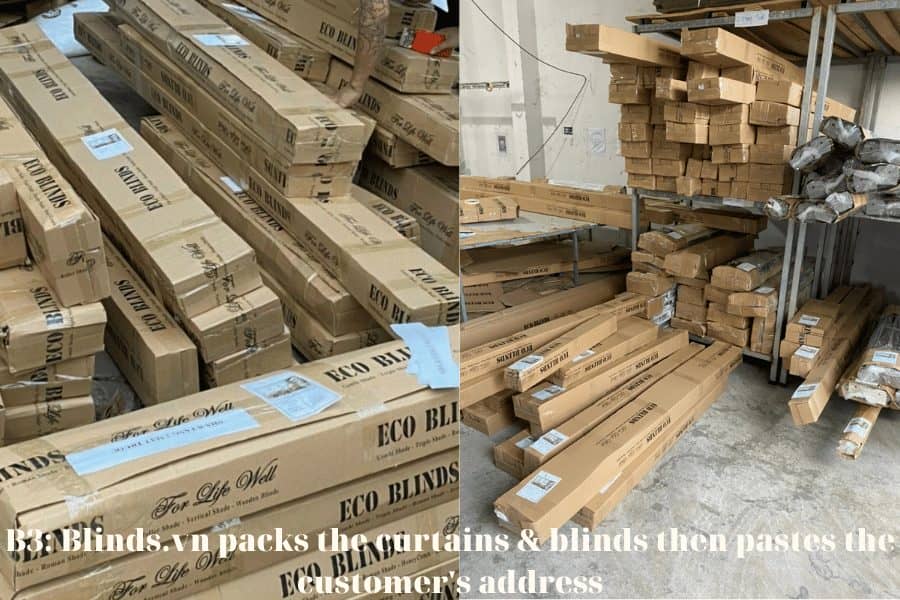 Step 3: Blinds.vn carefully pack the curtains & blinds before sending/installing.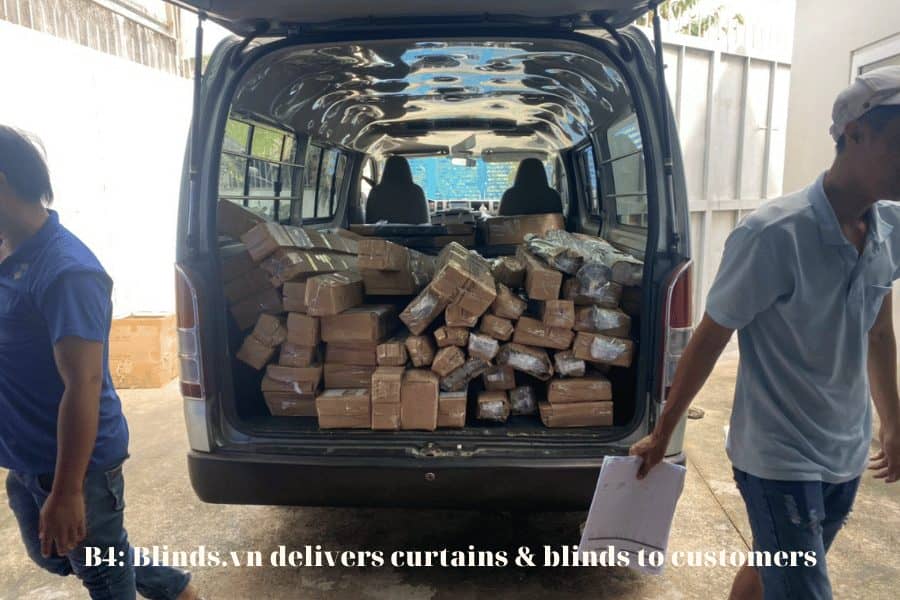 Step 4: Blinds.vn delivers the curtains & blinds to the car or to the delivery unit to the customer.
High-class blinds & curtains brand Star Blinds.vn at Vietbuild Expo 2020. 
Blinds.vn's curtains showroom in Ho Chi Minh city, Vietnam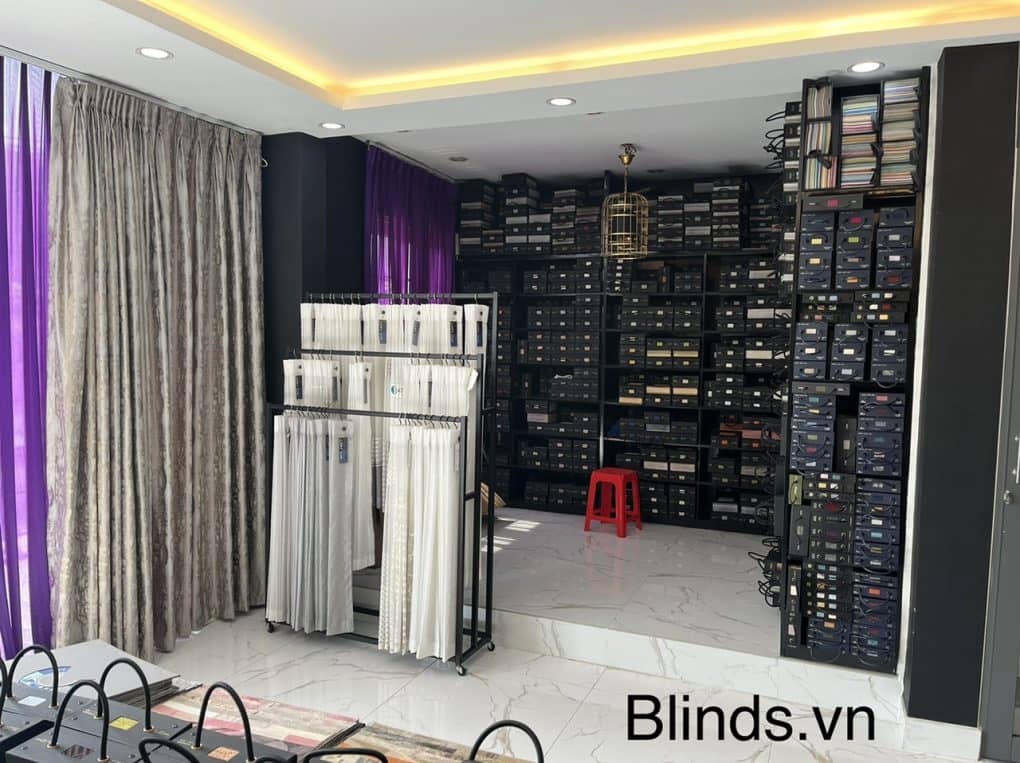 Chiffon curtains display area at the showroom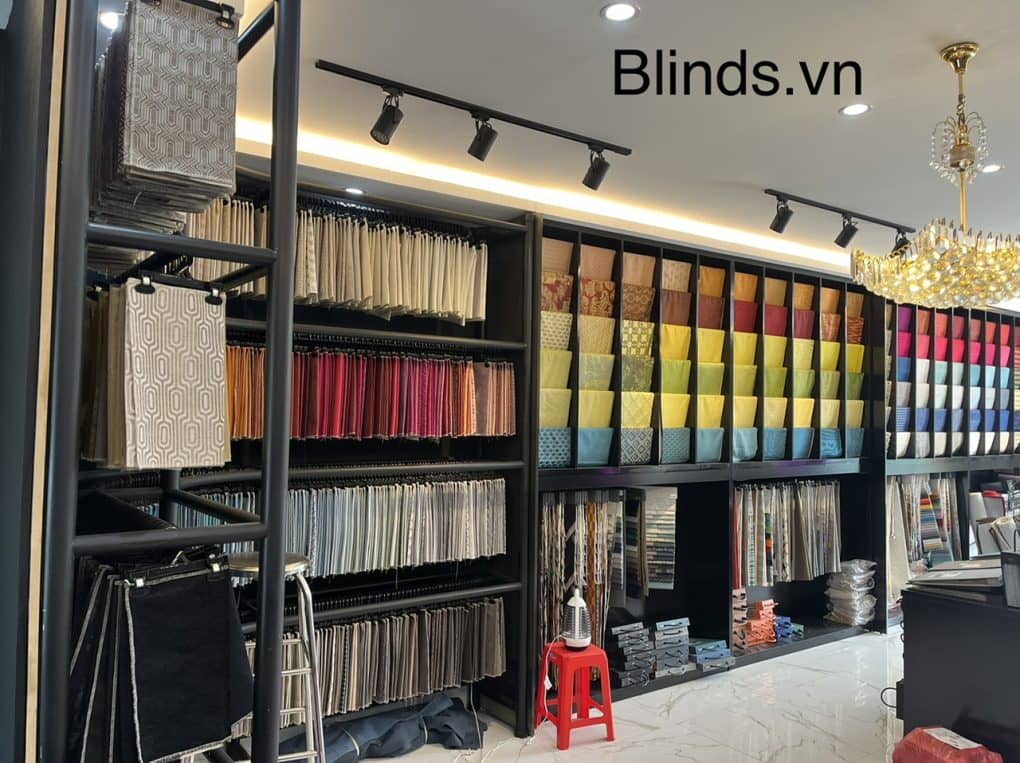 Display area for brocade fabric for curtains and fabric for sofa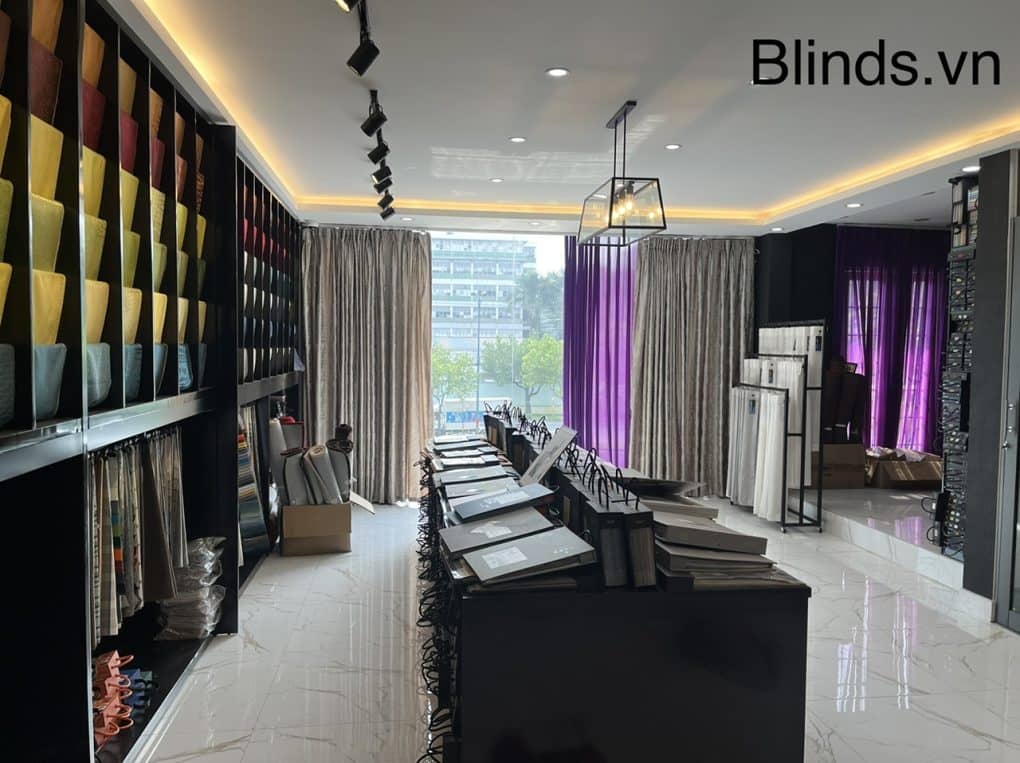 The center area displays curtain fabrics and floor mats
Window curtains & blinds factory Eco Blinds.vn
We are the leading manufacturer of curtains and blinds in Vietnam. About Eco Blinds.vn curtain factory: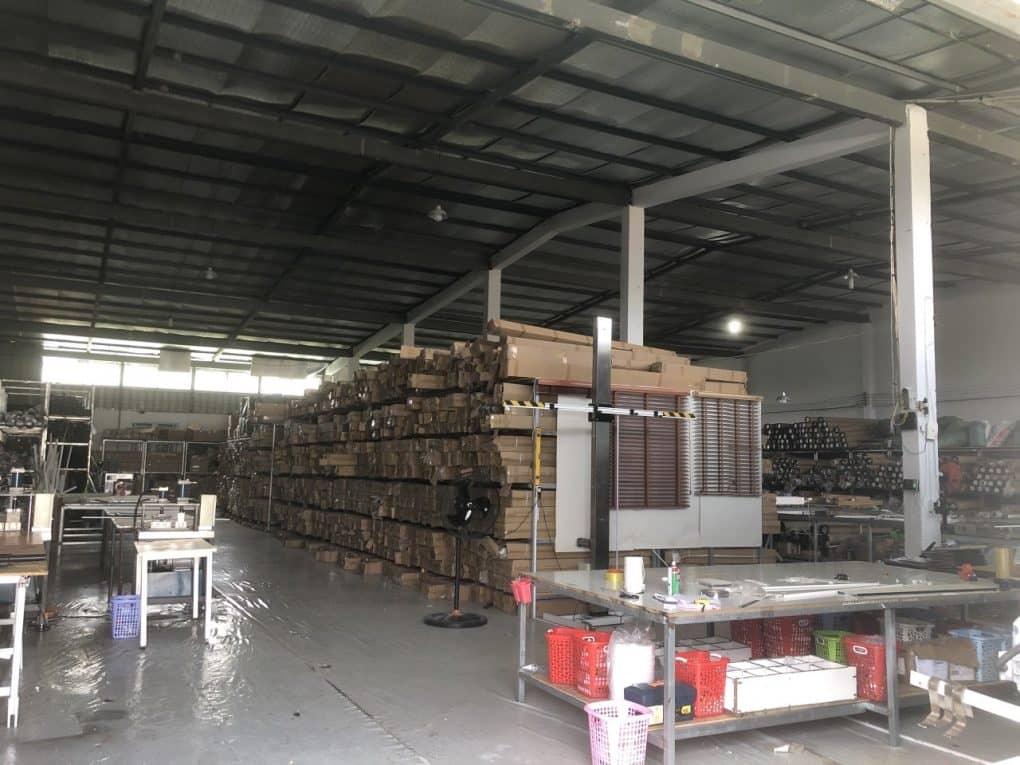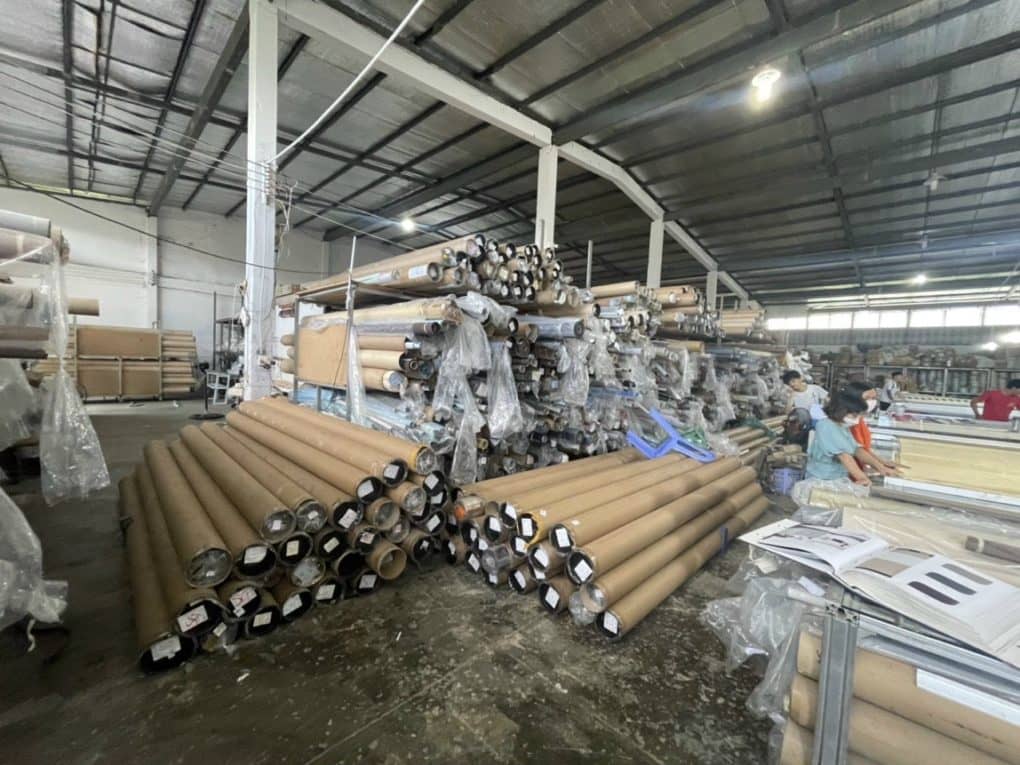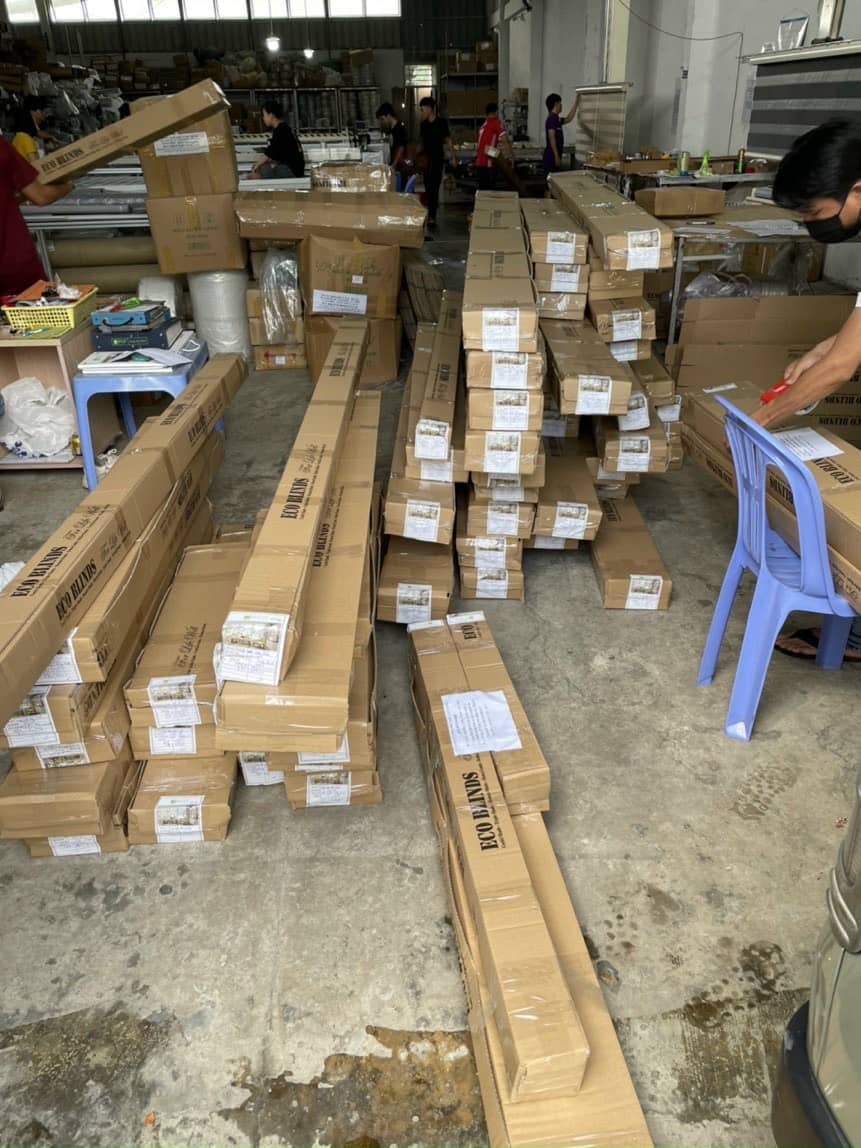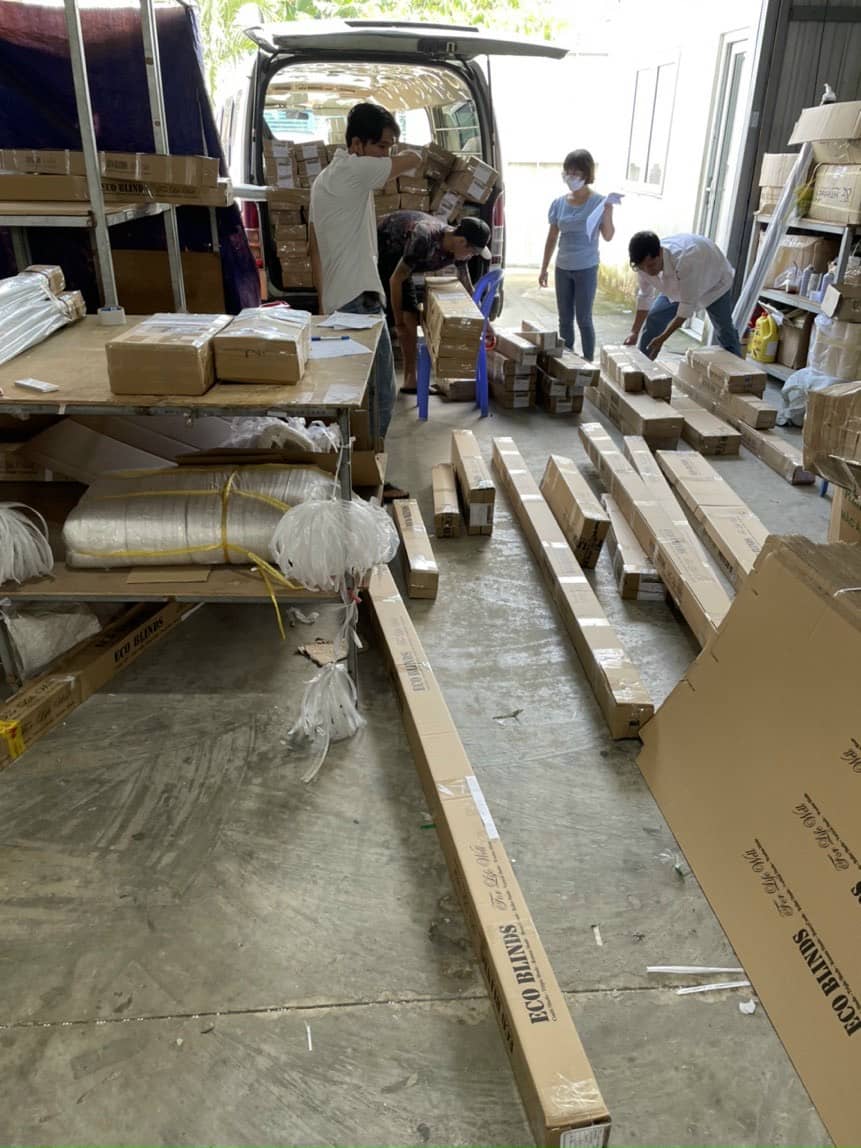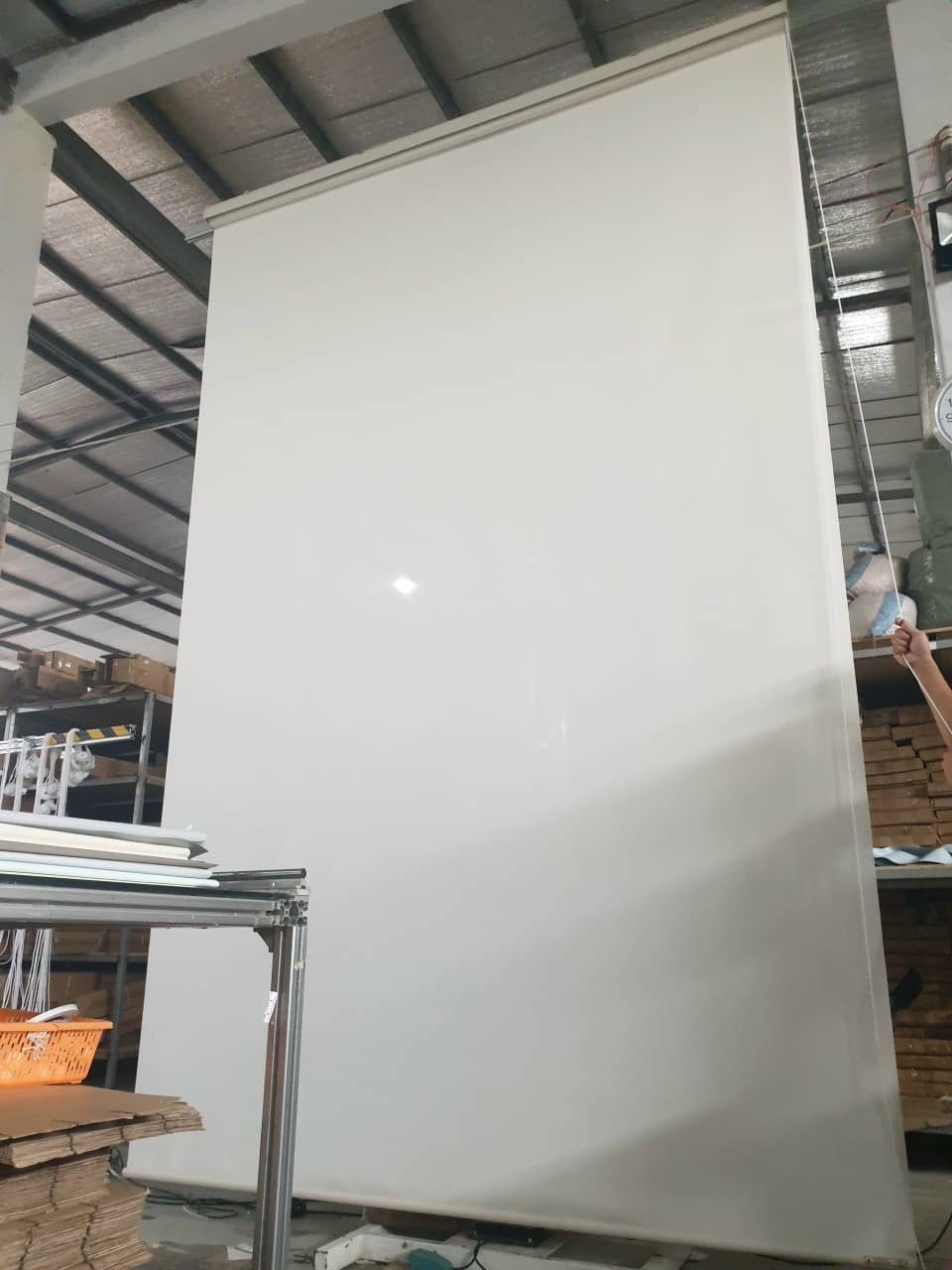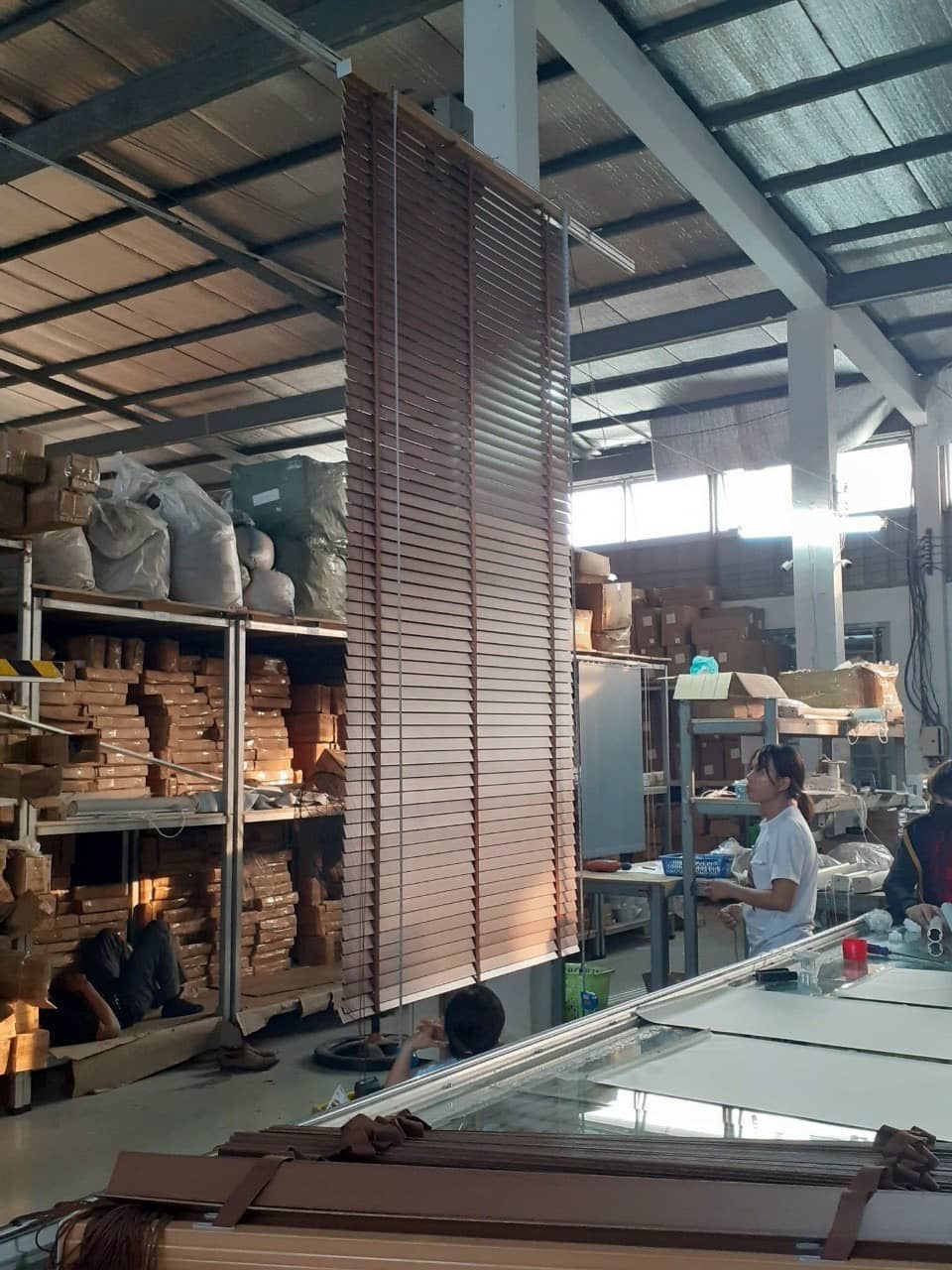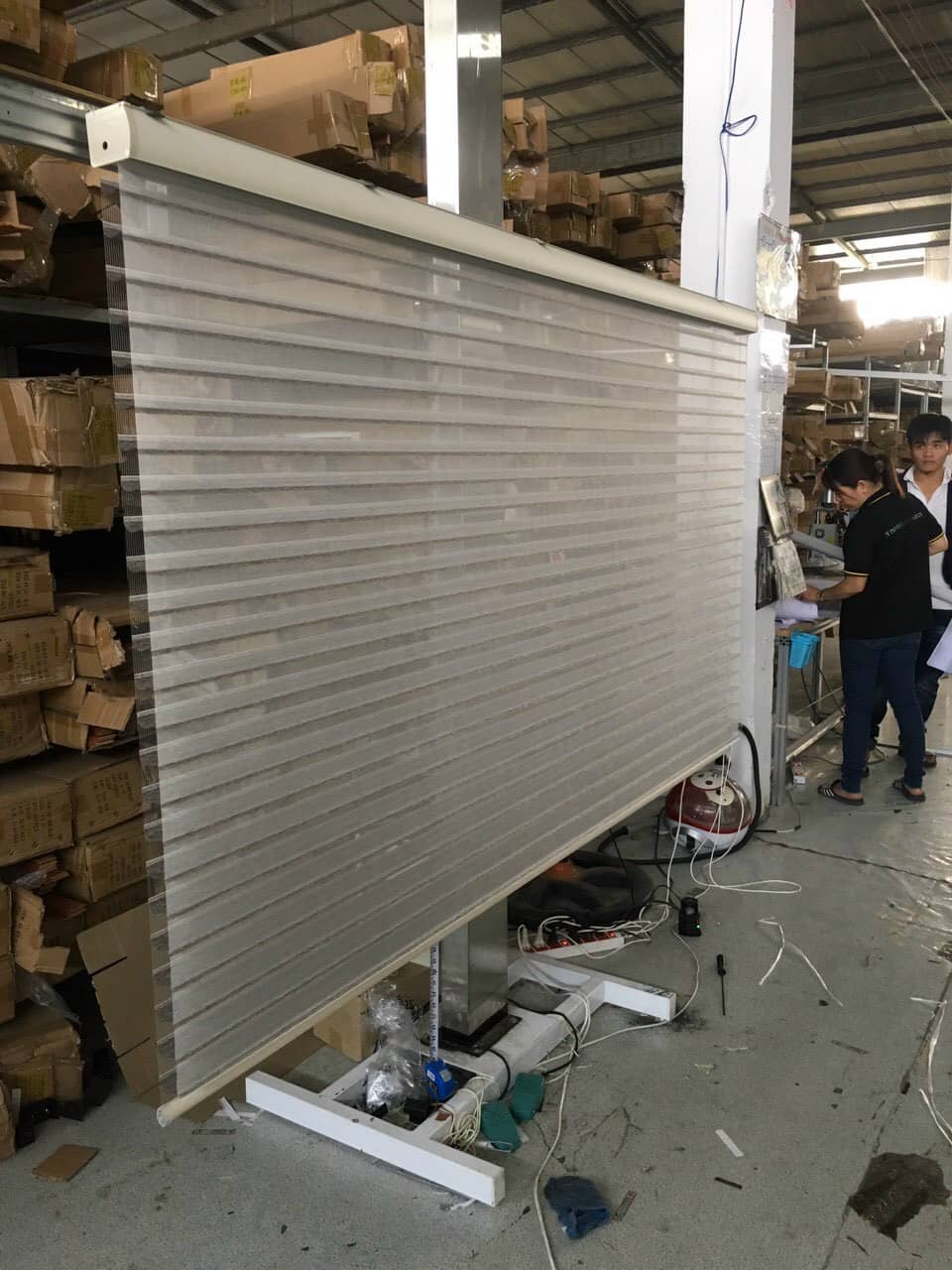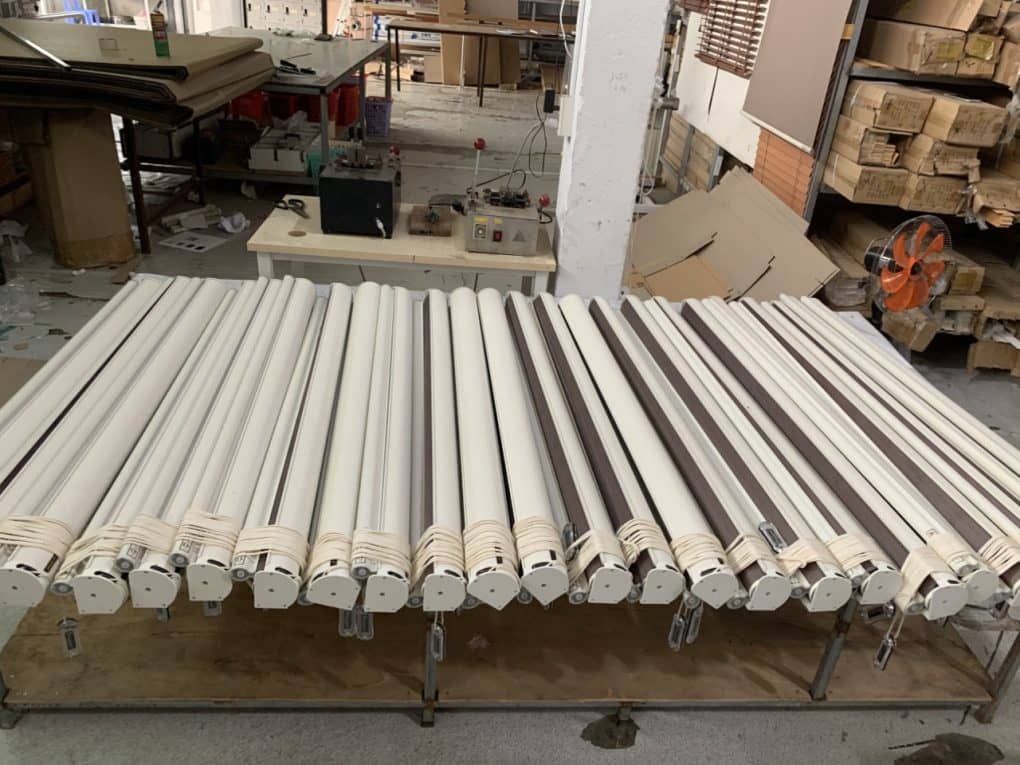 For advice on the price of curtains/curtains, please directly contact the Blinds hotline/ telegram for a completely free consultation! Blinds.vn would like to thank you and look forward to serving you.
Update curtains & blinds price list 2023
Family curtains
Family curtains
II. Solid fabric curtains: 15 USD/m2
The fabric is woven from large and thick fabrics. Brocade fabric is chosen by many people to decorate classic-style houses or have spacious spaces such as villas, resorts and large townhouses.
Burlap fabric covered with rubber 100% sun protection +5 USD
III. Premium employment fabric curtains: 17 USD/m2
To satisfy customers about beauty, high-quality embroidered brocade curtains bring subtle beauty to the room. Besides the solid color curtains, the embroidered window curtains are more chosen by customers. Pattern embroidered curtain fabric is a fabric pattern made from high-quality brocade fabric but embroidered with extremely delicate embossed motifs to create a beautiful curtain pattern that makes the room more splendid and creative.
IV. Silver fabric curtains: 15 USD/m2
Velvet brocade fabric is thick fabric but the fabric is small and soft, highly decorative. The surface of brocade fabric often has sunken patterns to create a striking 3d pattern effect for the window curtain set. The level of light resistance of brocade fabric depends on the color of the curtains, the darker the color, the better the light will be
V. Print silk brocade fabric curtains: 15 USD/m2
Silk brocade fabric is a brocade material that is woven in combination with non-silk fibers, so it is very soft, silk fabric has a characteristic gloss and has the best ability to resist dust, the texture on the fabric is heat transfer printed, so it is very durable and colorfast. diversity.
Promotion price: 220,000 VND/m2
VI. Cheap Taiwan brocade fabric curtains: 10 USD/m2
Blinds Taiwanese brocade fabric stands out with a variety of textures in the price range. Currently, Blinds only imports genuine Taiwanese curtains from reputable suppliers and the quality is guaranteed for customers.
VII. Wooden blinds: 36 USD/m2
Wooden blinds: 100% natural wood including: red wood, bamboo spokes, oak, etc. Similar to the operating mechanism of aluminum foil blinds, wooden blinds are suitable for all spaces. Wood has many different colors easy for you to choose.
VIII. Roman: 31.5 USD/m2
Roman blinds are also known as layered curtains. Roman blinds are sewn from 1 layer of fabric or sew 2 layers of fabric together for better sun protection (common).
Promotion price: 20 USD/m2
IX. Classic curtains: 19.5 USD/m2
Queen-style curtains, also known as scalloped curtains, are specialized for luxurious townhouses, villas, and villas with classical and neoclassical styles. Queen curtains can also be used in townhouses or apartments with a modern youthful style. In addition, neoclassical queen curtains are often combined with lace borders and tassels to create accents for the house.
X. SHEER: 11 USD/m2
Art embroidered curtain is a type of curtain with meticulous and high aesthetic. Curtains are hand-embroidered in every small detail. Art embroidered curtains are often embroidered with white or colored chiffon fabric. Besides, the curtain is combined with a layer of fabric to get a beautiful and delicate set of curtains with meticulous hand-embroidered lines of the curtain.
Promotion price: 9 USD/m2
XI. Automatic curtains motor: 95 USD/set
- Suitable for all smart electrical systems
- Control by smartphone
The automatic horizontal opening curtain products manufactured, constructed and installed by Blinds are guaranteed for 5 years for the motor and 1 year for the accessories.
Office blinds
Office blinds
I- HP STAR roller blinds: 16 USD/ m2
Roller blinds: made from polyester, hiflex tarpaulin, ... from the US, Australia. Roller blinds have 100% sun protection, roll blinds are suitable for offices and companies.
Promotion Price: 12 USD/M2
II- HP STAR roller sunscreen blinds: 21 USD/m2
Roller sunscreen blinds: made from polyester, hiflex tarpaulin, PVC, etc., originating from the US, Australia. Mesh roller blinds are often used to decorate, reduce the amount of outside light. With mesh roller blinds, the outside is limited to see inside. Suitable for open spaces such as cafes, restaurants, office halls....
III- Automatic blinds motor: 95 USD/set
- Suitable for all smart electrical systems
- Control by smartphone
- Roller motors used for roller blinds, rainbow blinds, automatic wooden blinds manufactured, constructed and installed by Blinds are all guaranteed for 5 years for the motor and 1 year for the accessories.
IV- Vertical blinds: 14 USD/m2
Vertical blinds: made from polyester resin, originating from the US, Australia. The vertical blades can be rotated 180 degrees to adjust the amount of light or be pulled to the side when needed
V- Aluminum blinds: 14.5 USD/m2
Aluminum foil blinds: 100% pure aluminum, powder coated. The leaf plate is treated with anti-warping treatment, which can be rotated 180 degrees to adjust the amount of light or pull up when not in use. The aluminum foil has good insulation, dustproof.
VI- HP STAR zebra/ rainbow blinds: 38 USD/m2
Rainbow blinds are specially constructed compared to other types of roller blinds. Rainbow curtain has 2 layers of fabric and each layer of fabric is interwoven with transparent mesh layers. Suitable for both home and office.
Promotion Price: 20 USD/M2
Other specialized curtains & blinds
Other specialized curtains & blinds
I- Outdoor bamboo blinds: 16.5 USD/m2
Bamboo and rattan comes from environmentally friendly materials. Advantages of bamboo curtains are easy to maintain and clean and ensure long-term outdoor use.
II- Outdoor roller blinds: 20 USD/m2
The outdoor self-rolling tarpaulin is designed in the style of office roller blinds. Waterproof plastic tarpaulin is mainly used for outdoor sun protection, outdoor self-rolling tarpaulin is used for awnings, balconies ... in families, cafes, restaurants, parking lots....
III- Outdoor automatic folding roof: 350 USD/m2
The new generation outdoor automatic sunshade system of Blinds is very compact, sophisticated and modern without losing the relaxing space for you and your loved ones.
IV- The state/ hall curtains: 9 USD/m2
Screens are used for halls and stages, with diverse and rich designs and models. Currently, Blinds curtains have integrated motors for most of the hall curtain sets to help optimize the best use.
V- PVC cold curtains: 24 USD/m2
PVC cold curtains are widely used in many different areas such as factories, factories, supermarkets, restaurants, shops, restaurants, refrigerated trucks, freight containers.... and right in your home space.
VI- Medical/ hospital curtains: 15.5 USD/m2
Medical curtains / hospital blinds have many different designs and colors, with many cartoon images for children. Medical blinds have the effect of limiting visibility and helping patients have a better privacy and rest space. For medical curtain in some spas also use curtain.
VII- Thread curtains: 9 USD/m2
Thread curtains are curtains that are woven together with threads of similar sizes and come in a variety of sizes. Thread curtains do not have the ability to block light, sun or heat like other types of blinds. Thread curtains are used to separate the distance between the doors but do not lose sight of the homeowner and can be used to decorate weddings, chandeliers and some classic spaces such as the church...
Note:
+ AOK curtain motor, Dooya – China: Blinds has 3 years warranty, accessories 1 year warranty.
+ Engine Somfy – France, Forest – Netherlands 5 years warranty. Accessories 1 year warranty.

Customers who need to install all kinds of beautiful curtains and blinds, please contact the hotline for direct advice. With a team of professional staff, Blinds.vn confidently commits to bringing the best quality products at the best market prices.

Projects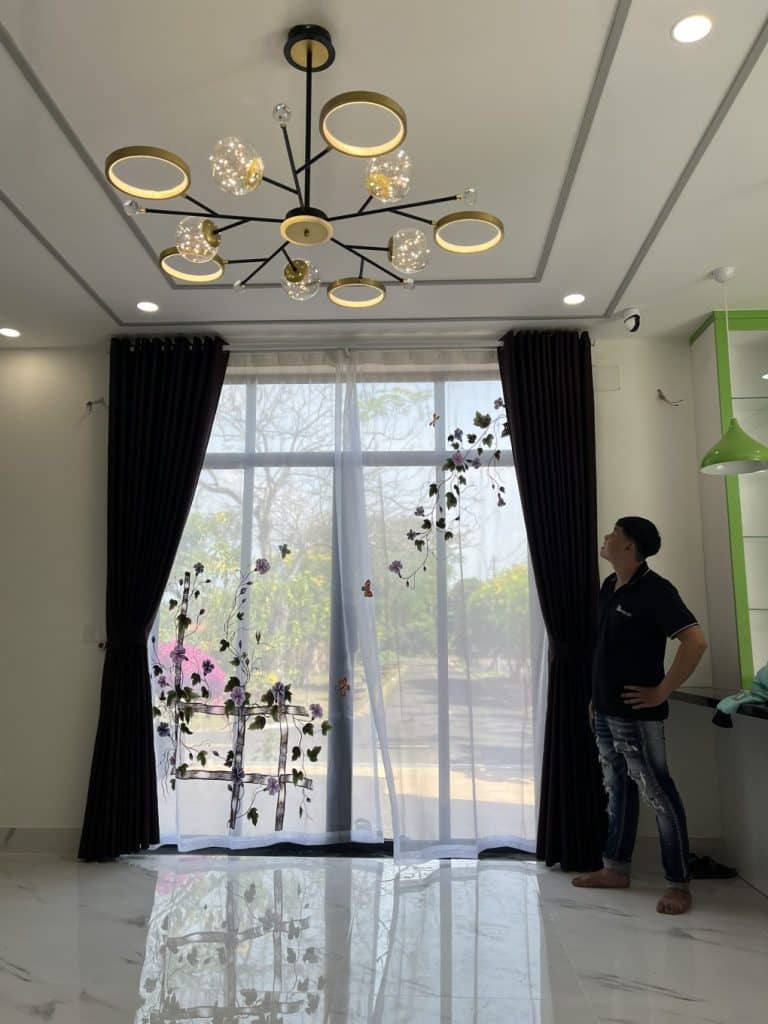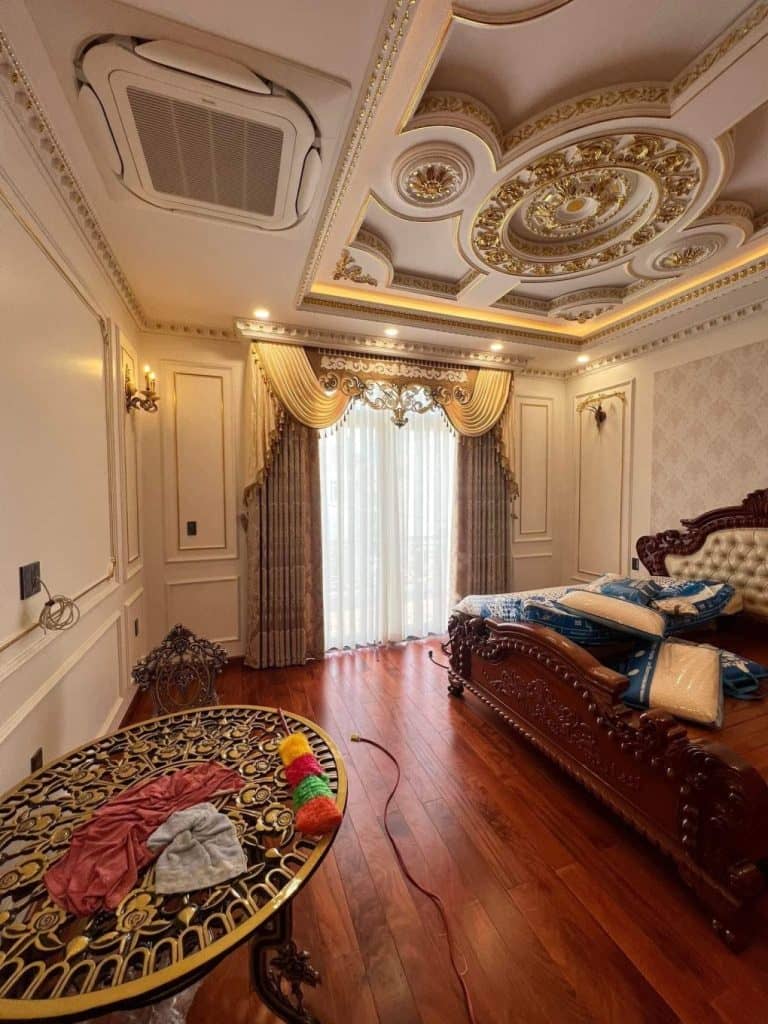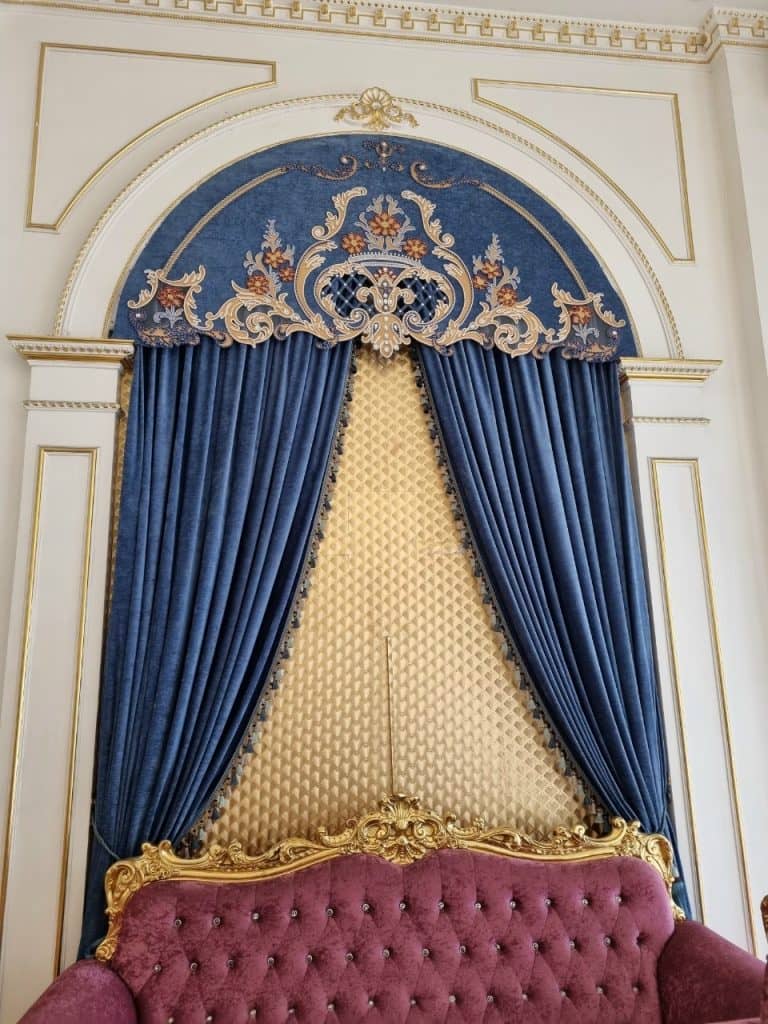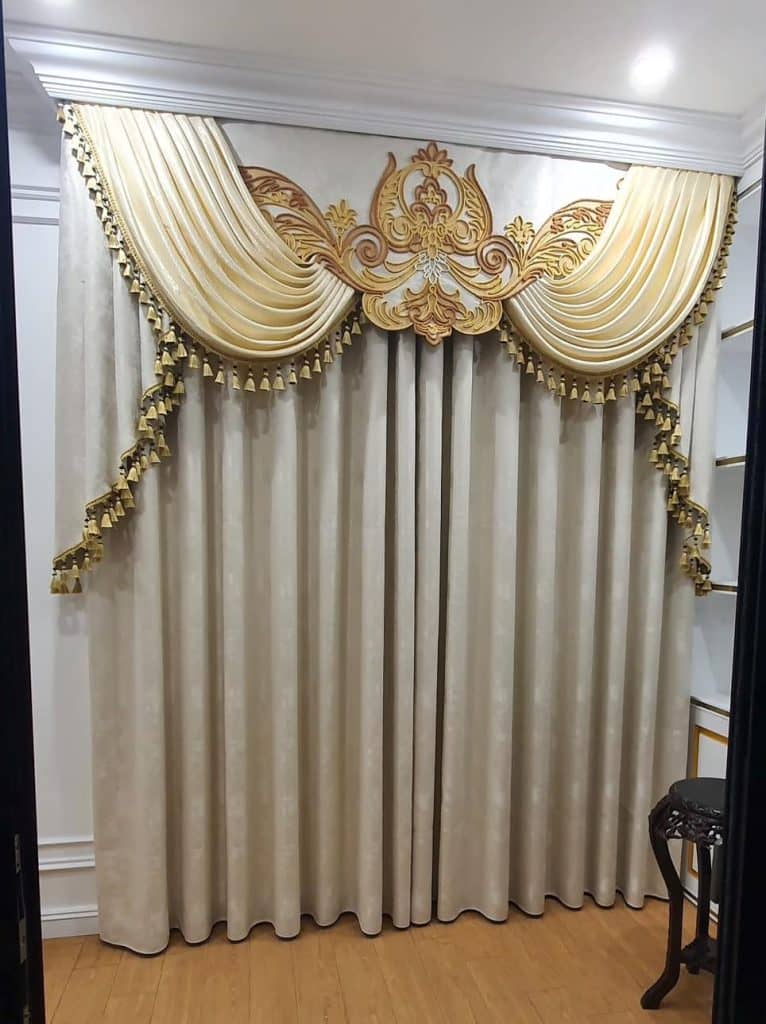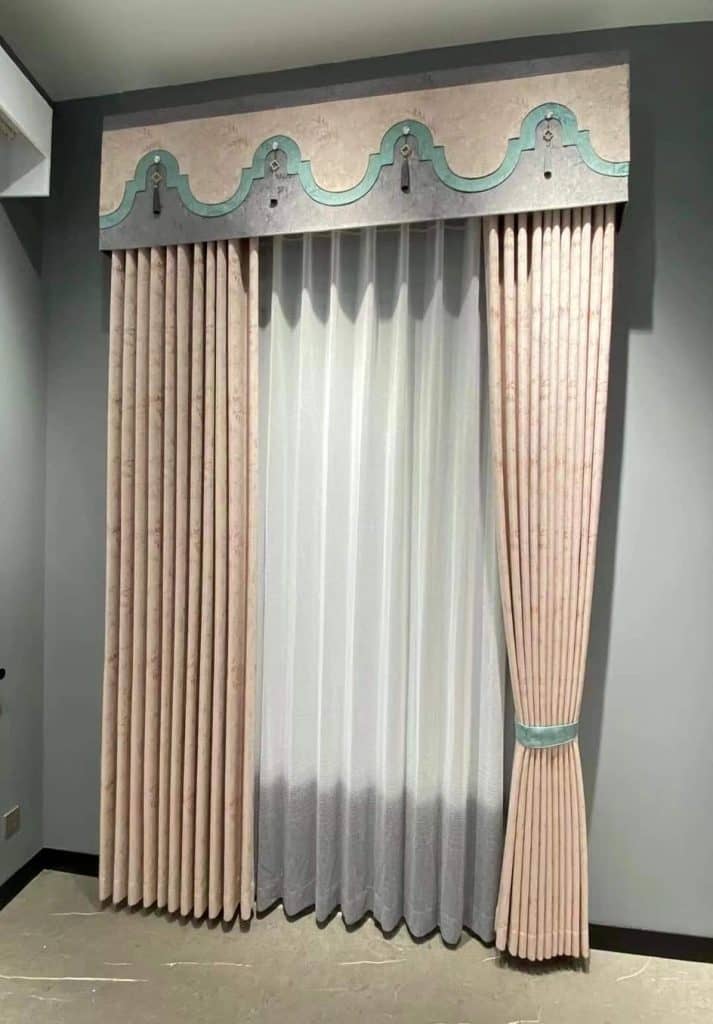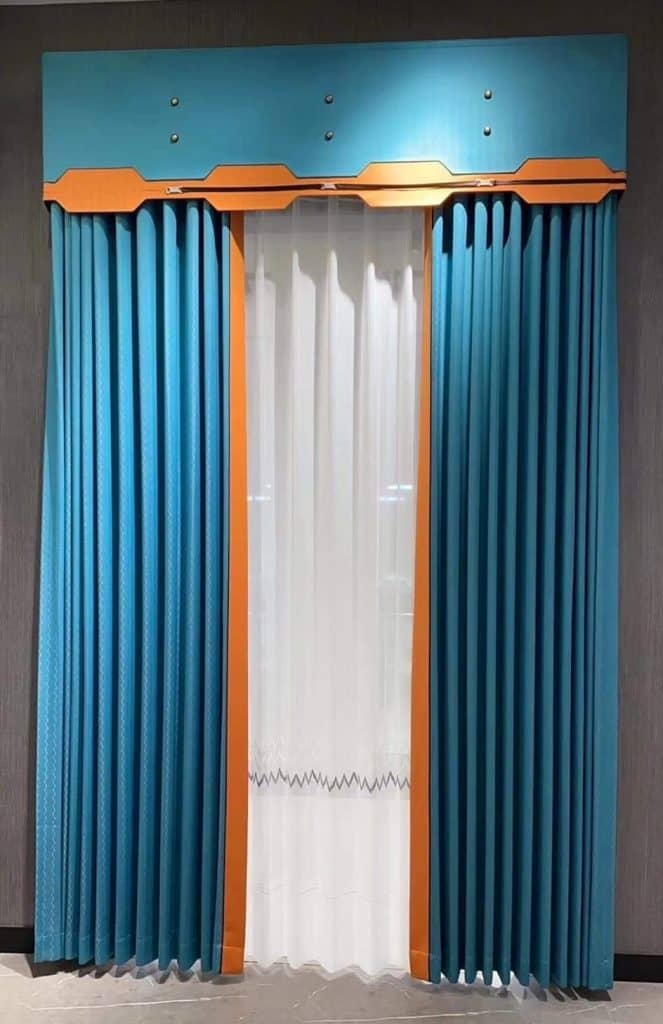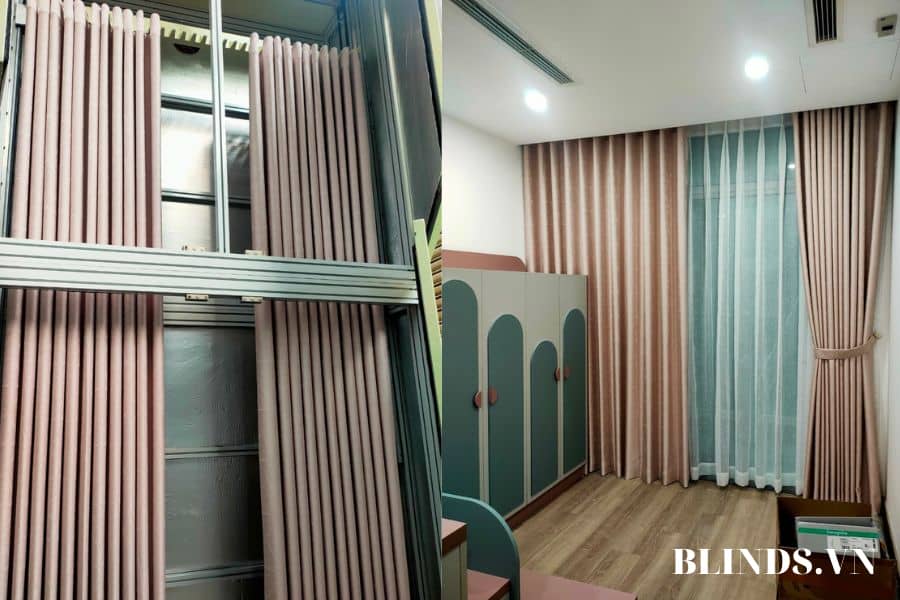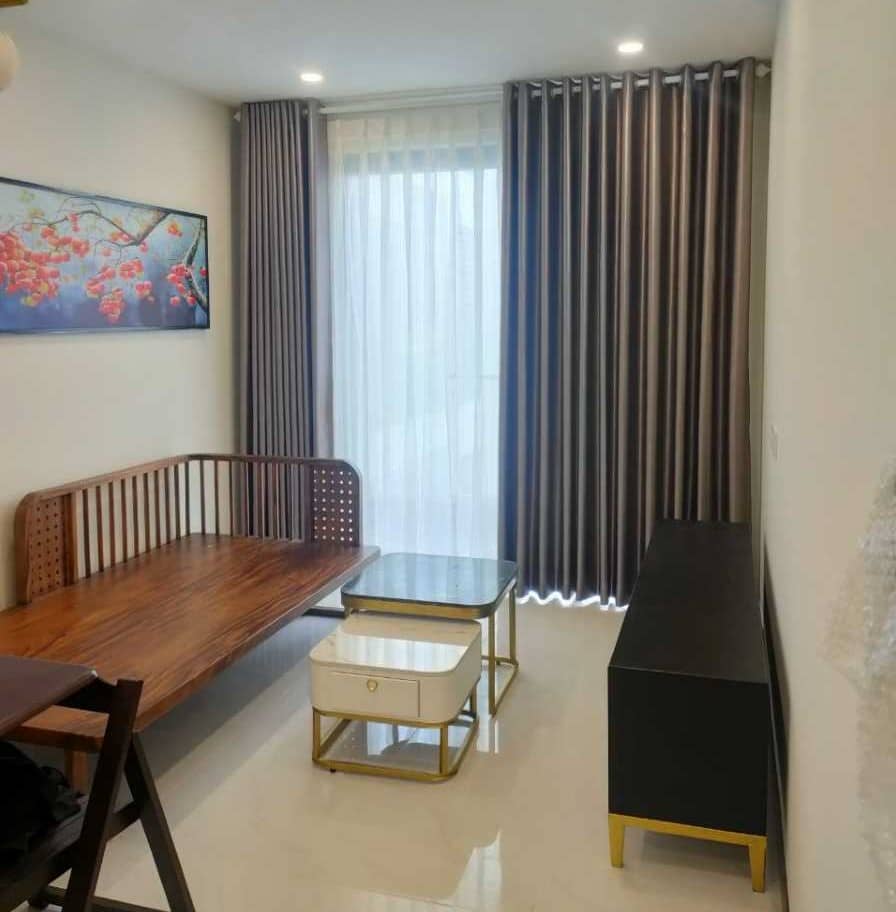 Immediately contact the hotline of Blinds.vn for advice on types of curtains.